Instructions
The Evaluative Experiential Learning Module is the last step in your learning pathway towards the Health Coach Professional Certificate. This individual summative assessment consists of three 20-minute role-play simulations (approximately 2-hours) with the simulated person and the instructor using three real-world case scenarios. The simulations will be conducted virtually via Zoom and you will receive Zoom instructions before your session.
The instructor will observe all three sessions and assess you based on a scoring grid adapted from the National Board for Health and Wellness Coaching. You will receive personalized feedback at the end of the session.
Please review the simulated person methodology and assessment grid used in this evaluative experiential module to help you prepare for the session.
---
Schedule
The Evaluative Experiential Learning Module will be held on the last Friday of each month. The HLLN team will email you to confirm the date and time of your assessment (2-hour time slot), we will try to accommodate based on first come first serve availability. If all time slots are full, you will be scheduled in for the following session and receive an email confirmation.
Transfers/Cancellations/Refunds
Written notice received by hlln@yorku.ca
Transfer Fees** 
Transfers will be scheduled for a future session
Voluntary Cancellation Fees*** 
10 + business days in advance of the program start date (excl. Summer Institutes)
The first transfer is free; a subsequent transfer will be subject to a transfer fee of $75 plus 13% HST
$75 plus 13% HST

Less than 10 business days in advance of the program start date.
$125 plus 13% HST
Non-refundable
Non-attendance will incur full  non-refundable cost.
---
Digital Credentials
You must receive a satisfactory standing in all your short online assessment(s) and the Evaluative Experiential Learning Module in order to receive your Health Coach Professional Certificate digital credential. Please note that it can take 2-4 weeks to receive your results and digital credential.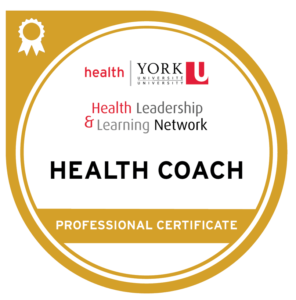 If you did not receive a satisfactory standing, you have the option to retake the individual assessment at an additional fee ($150 plus 13% HST each time you take it) up to two times (three attempts allowed in total). Please contact hlln@yorku.ca for details.
Please refer to the digital credentials page to read a description of the achievement type and mastery level of the credentials. Each digital credential is represented by a clickable graphic containing meta-data that will provide more details about the competency and earning criteria.
---
Become a National Board Certified Health and Wellness Coach (NBC-HWC)
The National Board Certification credential (NBCHWC), offered in collaboration with the National Board of Medical Examiners, represents the profession's highest standard and is based on extensive research and the training, education, and assessment of coaches who attended an NBHWC-approved school that meets specific criteria and standards.
The Health Coach Professional Certificate program at the Health Leadership and Learning Network is the first  NBHWC-approved program in Canada. Upon successful completion of the program, you are eligible to write the national board certifying exam and apply to become a National Board Certified Health and Wellness Coach.