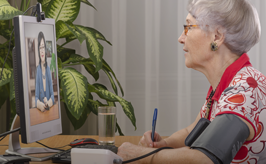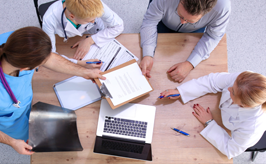 The Health Coach Professional Certificate is designed to address specific population needs at various stages of health. The training will equip you with skills to provide health coaching to clients – in one to one practice or as an expansion of your role in team-based care, both within private practice and organizations.
You will receive a paper certificate of completion upon completion of each course of the learning pathway and you have the option to earn digital skills badges after completing a short,  online assessment after the course. There is a $20 + HST administrative fee for each badge issued.
To earn the Health Coach Professional Certificate, which will be represented by a 'milestone' digital badge and endorsed/accredited by external partners where applicable, you will need to (1) complete all courses along the learning pathway, (2) earn all skills badges and (3) pass the Evaluative Experiential Learning Module. The cost of this evaluative module is an additional $550+ HST and includes 2 hours of videotaped individual simulation session, and feedback from simulated patient and the instructor.
NOTE:  Bundle discounts are available if you purchase the entire suite of Professional Certificate courses and skills badges , contact us for further information at hlln@yorku.ca.
FAQs on health coaching and our health coach program
Learning Pathway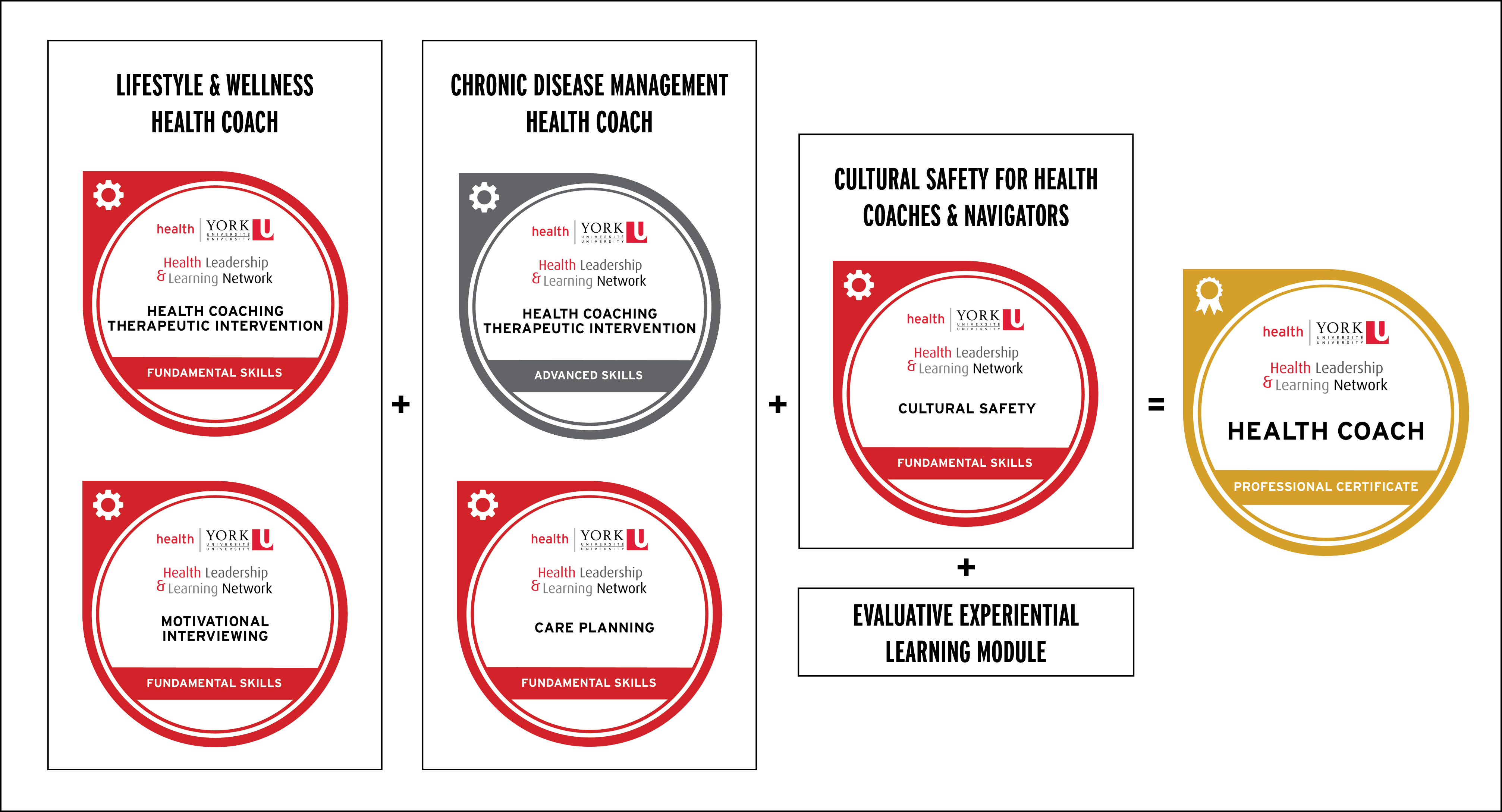 The Lifestyle and Wellness and Chronic Disease Management Health Coach courses include practical and applied training through interactive case discussions and live practice simulation sessions with professional actors.
Goals
Audience
Format & Price
Pre-requisites
(1) To promote health lifestyles and support population wellness goals through health coaching

(2) To train members of your organization or community to provide peer-to-peer general health and wellness support services

Individuals with a health related education and experience working in various health, wellness or fitness settings, or interested in starting their own practice
Format: 4 classroom days + 2 webinar sessions

Price: $1850 + HST

Diploma or degree in health (Nursing, Social Work, Medicine, Physiotherapy, Occupational Therapy, Psychology, Kinesiology, Health Promotion, Public Health etc.)

OR

Work experience in related field (Counselling role in community/faith-based organizations or schools, sports or fitness coach, community health worker etc.)
Goal
Audience
Format & Price
Pre-requisites
(1) To support the management of chronic diseases and complexity of diseases using health coaching skills

(2) To train health professionals to prevent or reduce secondary conditions for disease populations or high-risk populations in their clinical practice

Regulated health professionals working in primary care, community care, specialty clinics, hospitals, pharmacies and other clinical settings or interested in starting their own practice.
Format:

4 classroom days + 2 webinar sessions

Price: $1850 + HST

Regulated Health Professional

Exceptions may be made for non-regulated health professionals who meet pre-requisites listed on course webpage
Goal
Audience
Format & Price
Pre-requisites
Learn how to offer health coaching and/or patient navigation services in a culturally safe way
Health coaches and patient navigators

Any professional working in the health or social sector field providing front-line care or services

Format:1 classroom day

Price: $275 + HST

Recommended: Diploma or Bachelor's degree in health care and/or social sciences, or equivalent training and professional experience in health care field
Goal
Audience
Format & Price
Price
Summative assessment of health coaching skills and competencies.

A pass grade is required to earn  the Health Coach Professional Certificate.

Contact us at hlln@yorku.ca for more information.

Individuals who are interested in earning the Health Coach Professional Certificate and/or Health Coaching Therapeutic Intervention and Care Coordination skills badges.

Format: 2 hours booked on an individual basis.

Includes:

Three 20- minute videotaped session with simulated patient actor and feedback (~90 mins total) PLUS one 30-min session of feedback and scoring with instructor via webinar.

Price: $550 + HST

Price includes the professional certificate badge.
NOTE: For individuals interested in earning both the patient navigation and health coach professional certificates, you do not have to take the Cultural Safety for Health Coaches and Navigators twice - they would be counted towards both professional certificates.