HLLN has numerous programs available for delivery to your team/ staff wherever they are, at a date and time that suits your organizational needs.
Contact us at hlln@yorku.ca today to arrange for an Advisor to schedule a call with you to discuss your training needs
In-house or Custom programs are all of our programs that are delivered on-demand & in-house to meet the needs of an organization. These programs can also be tailored or developed upon request.
Programs: Click and download a pdf document with a list of all of our programs.
Delivery format: Programs are delivered any way you need them, including online, in-person, or hybrid (if applicable).
Location: Programs can be delivered across Canada
Please scroll down and learn more about our in-house or custom programs.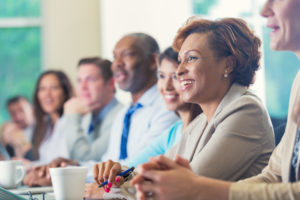 The in-house & custom option is for organizations and groups who have the following needs:
Require training during a specific day/time, or using a different delivery mode (e.g. in-person or fully online)
Workforce development and training to upskill, reskill, succession planning, onboarding, and retention
A more tailored or even 

custom

ized education program is needed
Please note that for the delivery of the in-house & custom option, a minimum number of participants will be required.
Only have a small group of learners?
If you are looking to run a program for a small group of learners and we have an existing offering, group rates are available on all our Open enrollment programs. For more information please email us at hlln@yorku.ca
We will work with you to create relevant, engaging, and impactful learning experiences with highly applicable content that can be immediately used in the workplace to enhance your team's performance.
You may choose any of the following training approaches:
Choose an Existing Program (no tailoring) - Choose a pre-existing program and we will deliver it as described on our website;
Tailor an Existing Program - Choose  a pre-existing program and customize it to your needs;
Build your own training program - Tell us how you want to improve your talent pipeline, and we will work with you to do it.
Workforce development: Retain, onboard, reskill, and upskill your team with knowledge and skills specific to your organizational needs
An education program tailored or customized to meet organizational needs for staff development and improve organization performance.
Schedule the program at your convenience to fit into your team's busy schedules.
Support career development for your team
Standardize and support consistency in processes, systems and outcomes
Standardize clinical practices to support improved patient experience and outcomes, and organizational goals
Build team performance and/or camaraderie, improve culture
A private education program for your team, with a York University subject matter expert
Note: Any and all open enrollment fees and discounts are not applicable to in-house programs, tailored or customized in-house programs
In a collaborative process, we will work with you and your organization to assess your needs, (tailor/develop if applicable) and deliver your program:
Identify Your Organization's Needs and learning needs - We will schedule a call with you to learn about your training needs
Program objectives and desired outcomes.
Desired areas of focus and priorities
Target audience
Timing
Delivery mode.
How to incorporate the program into the organization's broader staff and professional development process and goals.
Development( if applicable)
Proposal - Our team will share a proposal for your review. If required, we can schedule a call to answer your questions.
Agreement - Once you confirm you wish to proceed with the training. We will share an agreement for your review and signature.
Program Development ( if applicable) - Tweak existing or develop learning modules and topics to match the learning/training goals of your group, budget, location, and most importantly, desired impact.
Impact & Learnings -  Stay connected during and post-training of your group, to debrief and build lasting change.
Can you deliver a custom program across Canada overseas? Absolutely. All our programs can be offered to organizations and teams across Canada or overseas. Our programs are delivered for your convenience, including online, in-person, or hybrid (if applicable).
Can the custom program be delivered in person at our location? Yes. Our programs can be delivered in person at your location, upon request.
Can you provide my organization with an entirely new program or certificate? Absolutely. We can work with you to design a program that fits your needs.
To schedule an in-house or 

custom

program, how many people do I need in my group? For a inhouse or custom program, we require a minimum number of participants. For more information please email us at hlln@yorku.ca
I have a small group of staff, what will you recommend? If you are looking to run a program for a small group of staff, and we have an existing offering in our open enrollment programs, we can place your group in the existing open enrollment program. Group rates are available on all our Open enrollment programs. For more information please email us at hlln@yorku.ca
What is the approximate cost of an in-house or custom program?Pricing is dependent on a number of factors, including the program, the group size, delivery format (online, in-person or hybrid), program duration, tailoring or development ( if applicable) etc. After meeting with you, we can provide a quote, and work with you to meet your budget needs